A wide variety of Food and Craft Vendors will set up along the sound side of the baseball fields for the duration of the festival.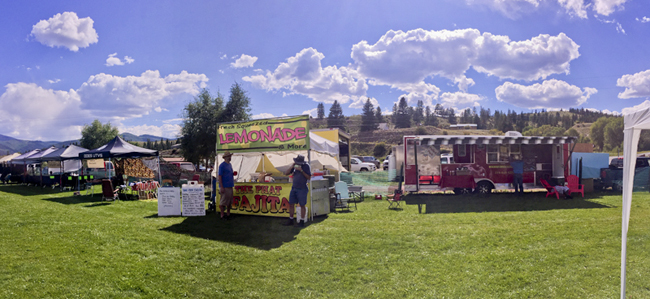 Our 2021 Vendors Include:
ART
Autumn Tenyll
BB Glass Creations
Clay Memory
Rain Bodine
Dream Wild Studio
Peter Emerson, Silversmith
Festive Fascinators
Jeansonne's Fine Designs
Lady Unique Boutique
Laurel's Pearls
Peppermills of Distinction – Mr. Fleischman
Pinon Wood Fibers Ranch
Queen Beads
Rocky Mountain Outback Hats
The Jewelry Smith
Trayson Conner Photography
Whistle Pig
DIRT Product Booth (hoodies, tshirts, wine glasses)
Friends of Lake City EMTs (tshirts)
FOOD
Haugen's Mountain Grown Lamb
Mountain Valley Kettle Corn
Kip's Grill
Sweet Peas
Become a Vendor:
The annual music festival will be spread across two days and will feature music concerts on Saturday from 11-7 and Sunday from 11-5. Our goal is to have 500 concert goers on both days of the festival totaling 500-600 for the entire weekend! Because this is only our third year we are offering a low pioneer price of just $30.00 for both days for a 10x10 space.
Please contact This email address is being protected from spambots. You need JavaScript enabled to view it.